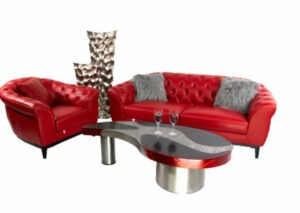 Some might consider the fact that plants go better together with wooden furniture and a "cottage feel" that is more reminiscent of countryside homes, rather than modern living and kitchen areas. When it comes to the tastes of most people, this might seem like the norm. However, if you want to be a little more edgy in your interior design choices, metal furniture might be a far better choice.
Just imagine a stunning and robust metal coffee table next to a beautiful tree or a set of lovely hanging plants on walls painted in calming pastel colors or a room decorated in aesthetically chosen shades of white and gray. The artistic value is off the chart already, and the simple presence of the plants will complete that setting in a way that makes you feel genuine joy each time you walk into the room.
Metal furniture also goes well with a wooden porch and classy looking outdoor plants and with the modern feel of a newly decorated living room. Moreover, metal furniture can easily be customize to fit your unique design requirements and tastes. If you don't like the usual metallic feel, you can simply opt for a painted and uniquely decorated traditional looking table or set of chairs, which will blend in better with a classic home design and the presence of lots of beautiful flowers.