Oios metals offers over 30 unique finishes. Everything is done by hand so all finishes will have slight variation from piece to piece. The best way to experience the Oios finish is to order a sample pack. 
Oios metals has over 30 different finishes. Selecting your table, fire pit , or countertop can present many options. Let us help you decide with our sample packs. Sample packs are 3 finishes for $25 and $10 for shipping. Samples are 8″ x 4″. If you are buying from the Denver showroom directly, the sample pack price can be credited against your final purchase price. Custom sample sizes are available for different price points. Contact us to complete your sample order or if you have any questions.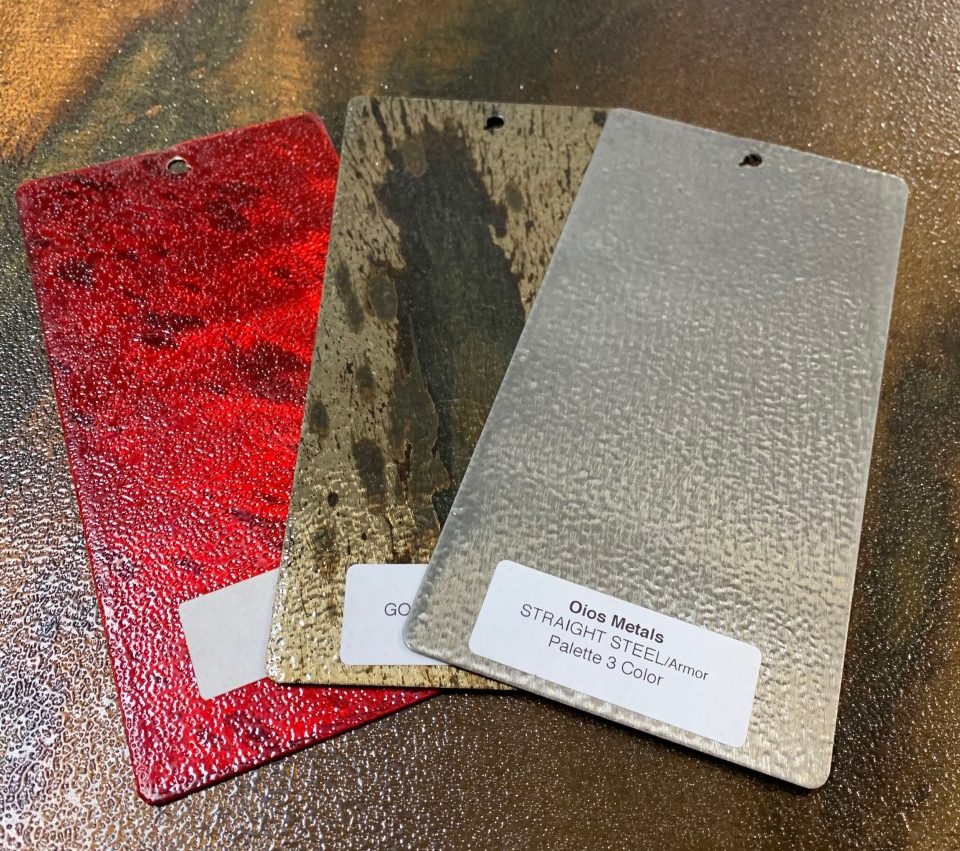 How to read our samples:
Grind Pattern / Color / Clear coat Type / Palette
Grind pattern:  Random, straight, scribble. Its the pattern that is done by hand into the metal surface. It is underneath the color.
*these will not show through opaque patterns
Clear coat type:
Gloss; Shiny thin layer, great for veneers, bar walls, some back splash.
Armor: Versatile, most suitable for outdoor, countertops, firepits, dining table tops. Can be used in any application. It has an orange peel like texture that can be reflective in bright light.
Satin; Less reflective than gloss or armor. Great for dinning tops, occasional tables, bright rooms, some countertops.
Palette: Ranges from 1-3 with 3 being the most expensive due to material and or labor costs.
The Best In Modern Metal Furnishings
Oios Modern Furniture Gallery is a Colorado owned buiness. We manufactures steel tables, fire-pits, counter-tops, fire place surrounds & accessories for your home or business. We make our factory-direct metal furnishings in Denver. They are perfect for commercial or residential purposes. Support local business, stop in today!
Oios Presents Contemporary Metal Creations From Denver Colorado
When we create our custom designs, we guarantee your home, office, or restaurant will have a unique piece of art that will stand the test of time.
Contact Us
Manufacturing Plant
Aesthetic Metals & Oios Metals
2800 S Shoshone St
Englewood, CO 80110
[email protected]
(303) 778-0925
Denver Metro Retailer:
Artrageous Modern
6780 S University Blvd
Centennial, CO 80122
720-580-1101
www.artrageousmodern.com