OIOS Modern Furniture Gallery in Denver Colorado produces a wide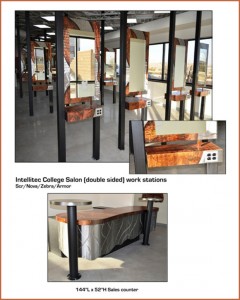 variety of Commercial Products, including Bar Counters and Tables, Office Desks , Office Furniture and Conference Tables, Indoor and Outdoor Signs, Custom Metal Table Tops, Restaurant and Bar Furniture Supplies , and much more. Our product line is only limited by your imagination, so let us work with you to give your business a totally unique look.
Contemporary Metal Conference Room Tables
As a business, you want to project a style and image the reflects your customers and clients. You can bring your look into the current trends with modern metal conference room tables and chairs. We can build a custom conference table to fit your modern conference room style. We can also design a metal table top to cap your current conference room table.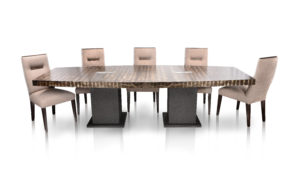 We also have a wide variety of stainless steel and metal conference tables to choose from in our Denver Colorado metal furniture gallery. You can come in and select a table that will suit your style and price range. Then you can select the perfect conference chairs to go with your conference room and table.
Our custom furniture designs allow you to choose the color of the metal, the finish and of course the shape of your table. Our custom finish work is second to none. We make our creations right here in Denver, Colorado and can ship them anywhere in the United States.
Metal Restaurant Tables, Bars and Supplies
Oios Modern Furniture Gallery in Denver Colorado has a commercial pedigree that is second to none. We can create a custom metal bar top for your restaurant and design tables and chairs that will make your business look modern, contemporary and inviting.
Restaurants have to blend an atmosphere of warmth and trendiness.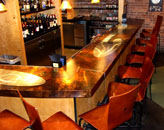 Adding metal accents, stainless steel table and bar tops as well as custom designed features throughout your establishment can give you the look and feel you need to attract and keep customers.
We can create metal restaurant tables perfectly designed to fit your place. We can create custom stainless steel tables for commercial work, kitchens and dining rooms. We have worked with bars and restaurants in Denver, Colorado and across the country. We would love to have an opportunity to work with your business to make it look special and perfectly designed to your specifications.
Commercial Tables and Chairs
You may have a commercial lunch area for your employees or you may want to purchase office furniture or commercial grade tables and chairs for your restaurant or cafeteria. We have metal tables and chairs in stock as well as the opportunity to create custom metal furnishings according to your specific designs.
If you choose to custom design your commercial table, conference chairs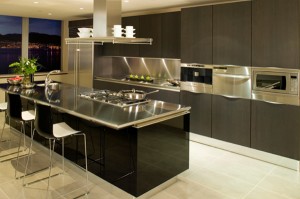 or conference table, you can choose the color of the metal, the finish and the shape of your contemporary tables. Our custom finish work is excellent. We make our contemporary occasional tables right here in Denver, Colorado and can ship them anywhere in the United States.
Browse Our Products
Click here to learn more about our products.